Echografischburo Koekeloere
Due to the new corona measures we can reopen on March 3rd.

The rules:


Do not come when you are sick or there are illnesses in your area;
Arrive on time and go on time;
Wearing masks is mandatory;
Disinfect your hands;
Partner may come along according to RIVM;
Contact and questions preferred via WhatsApp, phone no. 053-8001001.
Looking at your unborn baby in a relaxed setting!
Every pregnant woman knows the wish to have a short look inside. Being able to see the baby that you will have to wait for, for several months. Todays technique makes it possible for you to have a glance at the small world inside. Every future parent now has his own choice to peek inside for a moment, where there is also the possibility of determining the sex of the baby. By using the most modern digital 3 dimensional equipment we will make recordings of the baby in a personal setting, while you receive explanation of the shown images.
The ultrasound
In the ultrasound we use soundwaves, or the reflexion of soundwaves to make the pictures shown on the screen. Till 24 weeks your baby will fit from head till butt on the monitor. The most beautiful 3/ 4D images are made between the 22th and the 32nd week. After the 32nd week it is a lot harder to make clear images because the amount of amniotic fluid will decrease.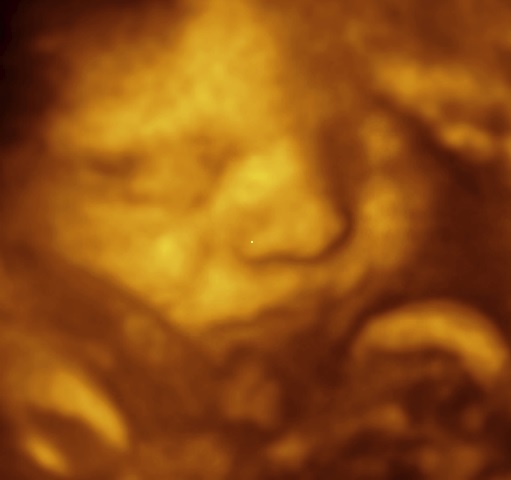 My personal favorite time to make the 4D ultrasound is between the 25th and 30 weeks. The baby will show facial expressions and we will be able to really connect with the baby. He/she will react to touches and massages.
At Koekeloere we have the newest 4D equipment. 4D is often a confusing term, 4D is a live time viewing of the 3D ultrasound. The benefit of looking at your baby in 4D is the ability to go back in time and capture the most beautiful moments on film. E.g. the baby yawning, waving or even opening his/her eyes. There are even babies that will smile and we wouldn't want to miss these moments. The 4D technique makes it possible to look at your baby, the way we look at each other.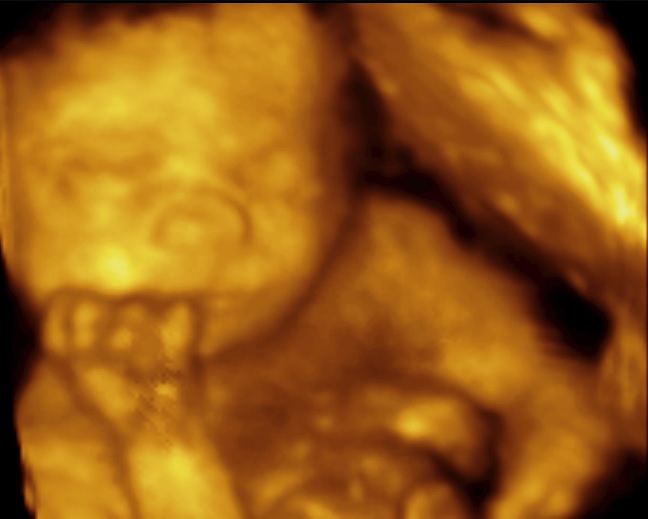 There are a lot of parents-to-be that have colour pictures of their babies, even before the baby is born. Of course there is also the possibility to buy a DVD/ USB or a CD with all the pictures.
As an additional service we will give you (when you are at least 15 weeks pregnant) a free ultrasound in case the gender of the baby can't be determined during the consult.
Prices
Consultations

Basic 4D consult
Short ultrasound incl measurements, listening to the heartbeat and 2 colour pictures. 15 weeks up gender determination included when desired.
€50,00
Basic 4D consult USB
Short ultrasound incl measurements, listening to the heartbeat and 2 colour pictures and video and pictures on USB. 15 weeks up gender determination included when desired.
€80,00
Nub determination
Short ultrasound incl nub determination and 2 colour pictures. (12 - 15 weken)
€75,00
Options / Extra

Weekend / evening surcharge
€15,00
Additional colour picture 10x15 cm *
€5,00
CD with all pictures *
€15,00
USB memorystick with all pictures *
€20,00
Upload video registration via WeTransfer.com *
€25,00
* Only in combination with ultrasound package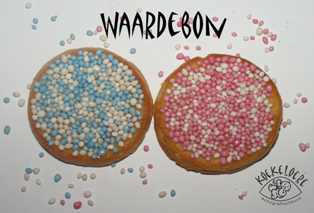 Appointment
You can make an appointment via (+31) 053-8001001 or reserve a spot in our appointment book via the button below. If you have made an appointment you agree to our terms and conditions.
Frequently Asked Questions
Gender determination
Possible at 15 weeks or later
The chance of errors in sex determination under 15 weeks too large
If we are unable to determine the gender at 15 weeks or later, you will get an additional consult on our costs.
Nub determination
Nub determination is possible from 12 weeks.
First something about the development of the sex organs of your child. Of course it is already genetically determined at conception whether you will have a boy or girl. As a woman you always pass on an X chromosome, your husband passes on an X or Y chromosome. Two Xs provides a daughter, an X and a Y for a son. Nevertheless, it takes a while to see the gender difference. Up to about seven weeks after conception, the sexual characteristics of both boys and girls look the same. Then they develop into a boy or a girl. According to firm NUB theory supporters you can see this difference after a pregnancy of around twelve weeks.
But how does nub determination work? I hear you ask! And I can best illustrate that by adding a picture. What matters is that there is a kind of button between the legs for both boys and girls. In the case of boy babies, this develops into a penis over time, and in girls it becomes a clitoris. The button points up for boys around this time period, for girls "it runs parallel to its backbone or even points slightly down."
Clear anyway! But unfortunately it doesn't always work that clear. Usually babies of all sorts of age still flapping around all kinds of arms, legs and the umbilical cord, making it difficult to estimate whether or not you are actually dealing with the NUB. It could well be that you see a boy as a girl, or vice versa, if you don't know exactly where to look. See also the article from Ouders van nu (Dutch Magazine).
Most beautiful time
For a large 4D package we advise to come between the 25th and 30th week.
After the 32nd week the amount of amniotic fluid will decrease. (The baby will be bigger) and it will be more difficult to make a clear picture.
Fatty products (bodylotion), position of the placenta and the amount of fatty tissue of the mother are of influence on the ultrasound.
The consultation
Is it possible to not see/know the gender of the baby? Of course, no problem.
Is it possible to have you write the gender discreetly on a small note? Yes, this is no problem at all.
I want to come again, is that allowed? Of course.
What if there is something wrong? I will call your midwife, preferably in your company.
Can I purchase additional pictures? That is possible.
At what week can I see the baby? From week 8 and up we are able to see the baby via the belly. If you wish to come earlier, there is a risk of not being able to see the baby due to for instance the tilt of the uterus. (some people wish to try at week 6).
Do I need to have a full bladder? Early in the pregnancy till about 12 weeks, after that it is not necessary.
Contact
Do you have any questions or would you like some extra information?
Schukkinkweg 15
7535 PB Enschede
Tel: (+31) 053 - 8 001 001
@:
info@koekeloere.nl
Terms and conditions
On all reservations and services below mentioned conditions are applicable. The conditions have been put down at the chamber of commerce at Enschede under number 06090463. Deviations on these conditions are only possible when they are confirmed in written by 'Echografischburo KOEKELOERE'. It is considered that all customers have taken cognizance and accept the below mentioned conditions.
RESERVATIONS.


Reservations can be done telephonic & via internet booking. Reservations are considered as definitive on the date they are made..

ULTRASOUND.


The goal of the ultrasound is not medical nor diagnostically. The ultrasound gives the parents the possibility to get a glance of the baby during the pregnancy. No further pathologic analyses of the unborn baby will be made.

Although it is not the intention to look for abnormalities, 'Echografischburo KOEKELOERE' has the right to inform the obstetrician or companion in case of detecting one. Customers give permission to do so by putting down the information of the obstetrician on the form of application. Because there will be no investigation of pathology, 'Echografischburo KOEKELOERE' will not accept responsibility regarding any missed abnormalities as detected in the future. Making an ultrasound is the free choice of each individual client.

Before starting the consult the customer will have to choose one of the products and has to fill in the application form with it's personal information. In case of determining the gender of the baby there will not be an accuracy of 100%. 'Echografischburo KOEKELOERE' will not be held responsible for making wrong conclusions regarding determining the gender. Although possible harmful effects of ultrasounds have been investigated by scientific research for several years, it was not possible to measure any effects. 'Echografischburo KOEKELOERE' will not be held responsible for any negative effects on long terms.

PAYMENT.


Payments have to be made in cash or by bankcard during the consult. In case the services are not paid, all materials including pictures, CD and DVD, will be kept in possession of 'Echografischburo KOEKELOERE'. Without written permission of 'Echografischburo KOEKELOERE' it is not allowed to complete nor partly adapting the visual registrations of the consult.

CANCELING CONSULTS.


In case of technical failures of the equipment which causes that the consult can not take place or can not be completed, a new appointment will be made within one week. In case of canceling appointments by the client, it must be done at least 24 hours before the actual appointment. CONSULT.

RESPONSIBILITIES.


'Echografischburo KOEKELOERE' can never be held responsible for any damage or injuries to the customer by any cause. Also 'Echografischburo KOEKELOERE' will never accept any responsibility for costs or any other compensation claimed by it's clients.

COMPATIBILITY.


'Echografischburo KOEKELOERE' can not completely guarantee that registrations on data carriers such as disk, CD-rom or DVD-rom are compatible with your equipment. Registration on mentioned media will be done by high quality equipment such as an AIWA taperecorder and a Philips DVD recorder to minimise compatibility problems.